If you want a marble fireplace, then you're in good company. Marble gives any hearth a sophisticated luster that suits a variety of decorative styles. Here are three more reasons to choose marble for your home or commercial fireplace.
1. Marble comes in more colors
Because marble is a hardened sedimentary soil, it has slight surface imperfections that make it unique. Because of its natural formation, each piece of marble is unique. Different regions of the world produce common and rare variations of marble colors.
White or black marble with contrasting stripes is widely used for mantels and surroundings. Dark green marble with gray, black and white stripes is also used as an accent color for fireplaces.
Other colors you can choose from (if available) include
● Gray
● Pink
● Light brown
● Blue-veined
● Brown
● Jade
Marble comes in dozens of amazing color variations, including rose and black, pearl and deep burgundy. Colored marble is perfect for tile accents or stunning mantelpieces.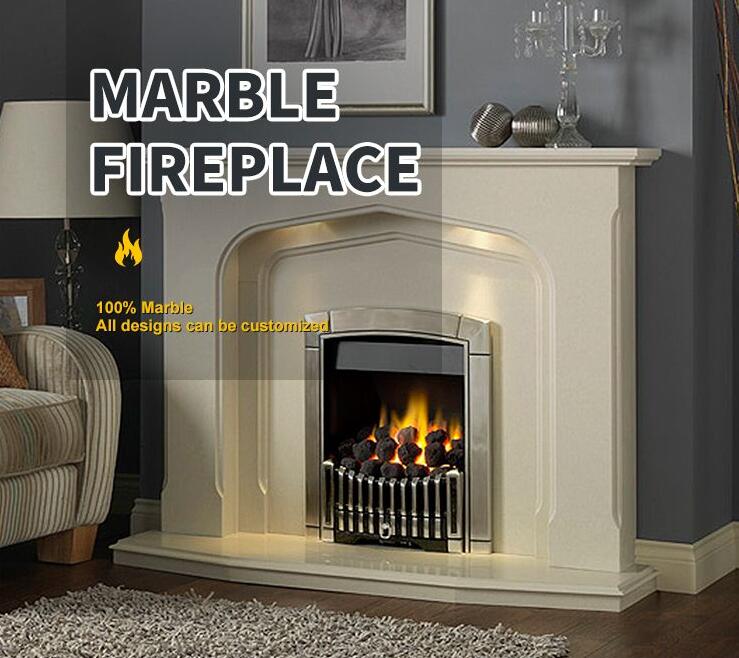 French Ornamentation Handmade Marble White Fireplace Frame
2. Marble is built to last
Marble is formed from limestone, which in turn is composed of ground-up shells collected at the bottom of the ocean. Marble is subjected to tremendous pressure and heat. These forces make marble a hard and durable material.
Marble has been used with fire ever since man learned to use it. Ornately carved marble fireplaces were used in ancient Roman, Greek and Chinese fireplaces. These fireplaces were often carved from statuary marble - the same stone used to make busts and statues.
Many of today's marble fireplace surrounds feature designs similar to the classical shapes. Other modern fireplace surrounds are made of thinner marble tiles and sheets carefully installed on the thermal mass of the fireplace.
When installed by professionals, a marble fireplace or mantel stand up to the heat and years of use. As long as the dust is wiped away from time to time, acid or acidic cleaners are avoided, and the marble is polished (not waxed) occasionally, it will retain its rich luster and bold colors.
3. Marble is suitable for all decorations
Marble is not only suitable for ancient use. In past fashionable times and interior design fashions, marble has been the first choice for fireplace design.
Marble was used in fireplace mantels and surrounds from the ancient Middle East to medieval Northern Europe to the newborn American colonies. some of the Some of the home-design movements that incorporate marble into their fireplace designs include:
● King Louis
● Georgian
● Regency
● Victorian
● Edwardian
● Arts and Crafts
The use of marble didn't stop there. In the mid-1950s, the huge floor-to-ceiling fireplace was surrounded by sweet white marble. The lines were squared, simple and elegant, allowing the marble itself to shine. This period also saw vintage classic designs in the shape of fireplaces to emulate the more opulent times of the past.
Today, you can achieve a modern mid-century look with a corner or freestanding marble fireplace surround that offers flames on both sides. Enjoy the cozy flames in the living room while the kids do their homework in the warm kitchen.
Freestanding marble fireplaces are also a great choice for commercial spaces, including hotel lobbies, fine dining restaurants and upscale nightclubs. If you have an office or den fireplace, a new marble mantel can refresh the space and your workday.
When designing a new marble surround, don't be afraid to step out of the firebox. Use herringbone marble tiles or oversized marble tiles to add a modern touch to an urban or industrial style living space. In transitional rooms, use fireplaces with simple lines and just a little curve around the edge of the mantel.
For more luxurious fireplaces, use marble columns and planters on either side of a carved marble mantel. For a French country or rustic look, use marble with painted decorative tiles or bold hammered metal accents.
Contact Hebei Jinkui Stone Co., Ltd. today to schedule your new marble fireplace installation. We can use stone from all over the world so you can create the cozy, charming or elegant fireplace of your dreams.