At Jinkui, our proficient and skilled Craftsmen are focused on doing a brilliant work every time.
We have own production house. Our production house is well equipped with latest and modern tools, machinery and equipments for chipping, cutting, stone polishing, engraving and designing etc. We have State of the art infrastructure and advanced production facilities to produces high quality statues. Statues are carved from finest white marble only. Carving of marble figures is an important step and we pay complete attention to create exclusive artistic marble figures. We monitor the whole process to ensure that the product which is being manufactured conforms to the quality standards.
How to make marble statues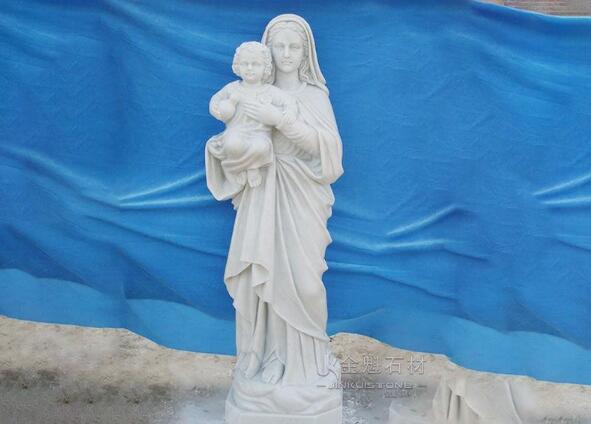 White Marble Statue of the Virgin and Child with Saints
Selection & Procurement of Raw Material:
Our designing process starts from the procurement of good and durable marble stone. We use white Vietnam marble and marble blocks which are sourced from trusted supplier.
Preparation of Clay/POP/Mitti Model:
Firstly we make Clay/POP/Mitti model as per specification or picture provided by the customers. Human busts and figures are also sculpted as special assignments representing a human's head and neck, as well as a variable portion of the chest and shoulders. In this stage, we obtain approval from the customer through Clay/POP model.
Curving The Statue:
We curve idols as per specification given by our customers or through sanctioned mitti model . To Curving statue, chhani and hammer is used in the starting phase and thereafter drill and cutting machine is also used as and when required.
Polishing:
After curving idol, it is given for polishing work. In this stage idols are became smoothly and shying.
Painting Work:
Many Customers also like painting work for more beautification of idol. We paint according to trend or specification given by our customers. We use natural colors which have long life.
Packing work:
Packing is taken place according destination of customer. Generally wooden boxes and foam are used that ensure idols reaches to the destination in good and safe condition.
Quality Testing:
After making of Statue, it passes through our quality testing and inspection process for which we have a separate in-house facility, which ensures the finishing, perfection and strength in the crafted products. Apart from the manufacturing unit, we have spacious warehousing facility to store wide range of our ready products.