The fireplace, big or small, is usually the focus of any room and is the first to be seen.
That's why you need to make sure your fireplace is reliable and beautiful.
But with so many materials to choose from around the fireplace, choosing one can be overwhelming.
If in doubt, please know that there is no mistake in using natural stone such as marble.
If you are not sure if you have a marble fireplace at home, please don't worry.
Our experts have prepared this blog to help you understand all the benefits.
Read on to find out what you need to know.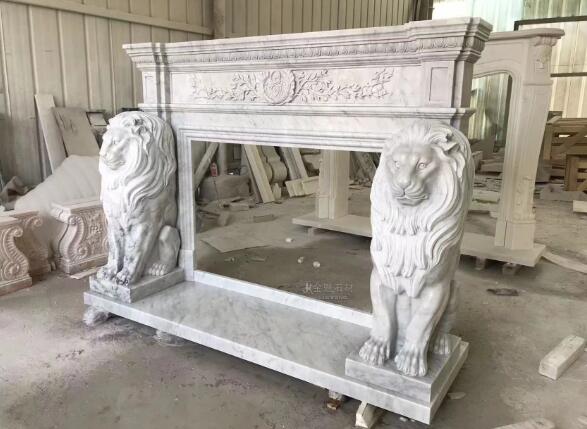 Customs sized Design Hand Carved Fireplace Frame
What is marble?
Marble is a naturally occurring metamorphic rock formed under the surface of the Earth. Over time, these compact limestones are completely re-crystallized by pressure and heat, capturing foreign substances such as mineral deposits, which result in the formation of colours and swirls. Its unique imperfections are what ensure that no two slabs of marble look the same, thus creating an exclusive product.
Things to Consider Before Buying a Marble Fireplace
1. Budget
Preparing a budget beforehand will make sure you don't regret making a big investment or worrying about how you can cover other costs such as installation. To be better prepared, contact a local provider of marble fireplace surrounds for a free estimate. Visit different vendors to make sure you are getting the best deal.
2. Quality
Before buying, you should check the marble size and ensure the ones you are buying are even, as uneven sizes are difficult to cut, install and grout. Besides the front, be sure to check the back of the slabs to see if there is any wire mesh attached. If there is, steer clear as manufacturers generally put the mesh on pieces that are soft and fragile. Also, examine the surface of the slab under proper lighting at a 45° angle. If you notice any patches or dull surfaces, know that the marble isn't of good quality and the dull areas could be a result of cracks being filled with chips.
3. Care and Maintenance
Though durable, marble typically requires more maintenance than other natural stones as it is extremely porous. This makes it vulnerable to damage and staining from moisture so needs to be treated regularly if you want to protect it. Besides regular cleaning, you will have to use a stone surface cleaner to keep it from losing its shine. Avoid harsh cleaners and acidic agents as these can discolour and scratch the smooth surface.